Shanghai shopping
Blimey! Did you know Jon's New Zealand book Squashed Possums is out now - find out more
Shanghai is changing so quickly and developing so fast, they've run out of space for it. At least, that's what it looks like in Shanghai's Urban Planning Exhibition Centre. Inside this museum, there is a vast scale model of every building in Shanghai. The city has expanded so much that you have to breathe in deeply as you walk around the model so you don't get squashed between the suburbs and the wall.
They need the space in Shanghai. After all, this is China's most populous city and the centre of finance and trade in China today.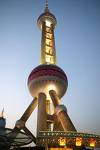 Everywhere you look, there's buying and selling. The serious trading is in the Pudong, a Tokyo and Hong Kong inspired forest of frenetic skyscrapers that seem to touch the sky. Shanghai's banks, offices and stock exchange can all be found here. The best place to admire how far Shanghai has come is by sipping a cocktail in the Cloud 9 bar, on the 87th floor of the Grand Hyatt. Just don't open a window or you might de-pressurise the penthouse!
On the other side of the river Bund, you can see where the colonial European powers held Shanghai's purse strings. These historic trading houses and banks of Shanghai's pre-revolutionary days have now been lovingly restored as high-end hotels, restaurants and Gucci shopping palaces.
But like any city, most of its people aren't flamboyantly wealthy. If you don't have enough money to lease a shop, then maybe you can sub-let your own corner of a shop. In Shanghai, shops are sometimes divided into spaces of one square foot. Individuals sell anything from second-hand paperbacks (including ironically Orwell's 1984) to hand drawn cards and other home grown arts and crafts.
If a corner of a shop is still out of reach, then oddly, the floor's the limit. Salesmen are everywhere and shiny new metro subways are especially popular venues for blanket jumble sales, selling everything from shoe inner soles to pirate DVDs, kites and Kenwood food mixers.
Shanghai often feels like a giant market and relationships are no different. If you're looking for a wife, a husband, or just a date, then visit the People's Park. Here, you'll find eager parents peddling their off-spring. Hundreds of hand-written notes jostle for attention, each pegged to a posh branded designer bag. One note I particularly liked was 'Eligible doctor seeks young, pretty wife - common language not mandatory."
Counterfeit goods are also a common theme on the streets of Shanghai. If the streets aren't exactly paved with gold, then they are filled with people prepared to sell you a knock off handbag. If I had a pound every time someone said 'handbag' to me with a laminate picture of a Gucci in their hand, I'd probably have enough money to buy a real one.
The thing is, in the country that makes the genuine article, you won't find many people who can afford the real thing.
Let me give you an example. A friend in Beijing told me how she'd been shocked to discover that the price of her haircut, style and colouring in a salon was the equivalent of a month's salary for her hairdresser - around 800 Yen.
It's not that people don't know they're knocked off. If you can afford the real thing, you wouldn't be seen dead with a fake. After all, two thousand years ago, the ever reliable Confucius pointed out that "cheap things are not good and good things are not cheap". But in Shanghai, a city of nearly 20 million people, there's plenty of room for buying and selling both.

Blimey! Did you know Jon's New Zealand book Squashed Possums is out now - find out more
29/07/2011