Big Gay Aleppo
Blimey! Did you know Jon's New Zealand book Squashed Possums is out now - find out more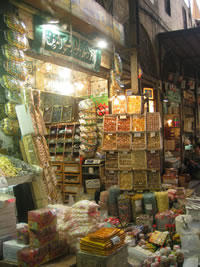 People are often not what they seem in Syria and it's not just the surprising number of Arabic George Bush fans, as they cheer him on for flattening neighbouring Iraq whilst bankrupting the American economy.
Every American I've met is pretending to be Canadian. You'd be surprised. There are quite a few kicking about in Syria, despite the rather severe warnings on the CIA website. Most of them are studying Arabic at the University of Cairo, travelling through the Middle East during their term breaks, practicing their new language skills and experiencing the places they've been reading about. "So, what sort of job do you think you'll end up doing?" I asked one, curious at how their passports would be handled by US Customs. "Most graduates go into government," he answered. "Some end up as teachers, a few journalists, secret services, that sort of thing." I suppose pretending to be Canadian was good practice for international diplomacy. "And that works, does it?" I enquired. "Sure, it works," he answered. "Well, that is, until someone asks me what the capital of Canada is, I never could remember..." The Arabs aren't stupid. Most know full well there can't be that many Canadians in the Middle East but take it in good humour. More worrying is that in a few years time, American secret intelligence will be populated by people who don't know what the capital of Canada is.
And it's not just the Americans either. One guy I met was dating a Lebanese Druze, a secretive offshoot of Shiite Islam whose population largely reside in the mountains of Lebanon. Conversion to or from the faith is strictly prohibited, as is one imagines, fooling around with an American who thinks he might be Canadian. Should any locals enquire in a friendly sort of way, where she was from, her alibi was that she was French. Unfortunately this tactic had its own set of problems since being an ex-French colony a lot of Syrians either speak French or have a better knowledge of France's geography than most Brits. This was raising quite a few problems since she had never even set foot in Europe. They made quite a couple, the American pretending to be a Canadian and the Druze who was claiming to be French. But even this pair's confused identity had nothing on the locals in Aleppo who are pretending to be homosexual.
Aleppo competes with Damascus for the title of the world's oldest continually inhabited city - and it shows. Aleppo's souq is a fascinating hodgepodge of shopping and history. It's like a cross between Woolworths, Tesco's and every department store you could imagine, if they all moved into a museum during a power cut.
The souq is housed in an ancient stone tunnel. Intricately carved, its stores stand next between hammam baths and prayer halls. Through the magnificent but gnarled stone gate of Bab Antakya, each stall competes for the customers' attention with a friendly sales patter of 'very good price, just for you!' and offers of hot sweet tea. My eye was caught by a pile of brightly coloured table cloths and scarves. "Peshwaan. Very good price," I was told by a persistent young Arab. "Where you from?" he asked and without pausing for an answer, continued "I study in Cambridge, very expensive, you want tea?" His conversation was relentless. I think I was being asked a question, but it was put in such a way that to turn him down would have been a gross insult. I tried to explain that he'd have better luck extracting blood from a stone than persuading me to buy a tablecloth, but he insisted. "No buy, just talk." I sat on a stack of rugs, sipping a glass of hot sweat tea. He appeared to be wearing make-up. His plump business partner emerged from the back of the stall. "Hello young maaan!" he announced in a high pitched voice, waving his arms with an overly dramatic flourish.
It appeared that I'd stumbled into the Syrian equivalent of the Pink Palace. This guy was so camp he made male flight attendants appear straight. Surveying the customers passing his stall, he threw his arms up in dismay. "Darling! There are just too many Turks today," he spat. "It's not good business, all quantity, no quality!" He went on to explain that with the celebration of Eid, the final day of Ramadan, neighbouring Syria and Turkey open their border without charge, creating an influx of Turks into Aleppo. "Surely that's good for business?" I asked. "But they have no money, waste of time," he muttered, frustrated at the quality of his customers, before turning heel and strutting off again. I made a diplomatic exit and continued along the market.
By some remarkable act of salesmanship, one jeweller did succeed in selling me some jewellery, an effeminate assistant topping up my tea as I engaged in some ruthless haggling for Christmas presents. Further along, I struck towards the medieval Citadel and had almost made it when I fell in step with a chap, who had noticed my guidebook. He introduced himself. "My name is Sebastian, I am in your book – look!" He plucked the Lonely Planet from my hand, flicking through the pages. "I have a shop. You are invited, please come in. Not to buy, to practice English please. I had exam in only two weeks." It had been at least ten minutes since my last cup of tea, and it was pretty clear he was about to fail on his tenses, so I accepted his offer. Like everyone else in the souq, he was wearing rouge, eye-liner and half his mother's make-up box.
"So, are you visiting Syria with your wife?" he enquired with a camp inflection. No, I answered. "Girlfriend?" he asked. No. "Are you with a boyfriend?" he teased. "No, no!" I insisted, "I'm just travelling by myself." We chatted on for awhile. Behind Sebastian, amongst the shelves of jewellery, hubbly-bubbly pipes and colourful embroideries was a weathered poster of Oscar Wilde, complete with Dorian Gray quotations. It seemed quite appropriate really. After all, Wilde led a double life and Dorian Gray spent his life pretending to be someone he wasn't. In the Aleppo souq, Sebastian explained, homosexuality is just a gimmick. The salesmen pretend to be gay to snag the curiosity of surprised tourists, exploit their confusion and sell them something. Then they all go home to their wives and families. As for the seemingly camp Sebastian, he was engaged to be married in a few weeks, probably to a Sunni Muslim pretending to be from Ottowa.

Blimey! Did you know Jon's New Zealand book Squashed Possums is out now - find out more
12/03/2008