Butlins - six ducks and rock'n'roll
Blimey! Did you know Jon's New Zealand book Squashed Possums is out now - find out more
Blimey! Did you know Jon's New Zealand book Squashed Possums is out now - find out more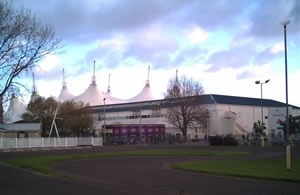 The traditional home of British holiday camps – Butlin's – has gone through some changes of late. A family favourite of the 1950's and 1960's, its golden era of day-glo plastic palm trees and glamorous granny competitions is now lost to the passage of time. How were they going to survive in a world of cheap holidays on the Costa Del Sol and bargain bucket flights across Europe? It looked like the great British holiday camp's days might be numbered.
But somehow and against the odds, Butlin's has survived by finding a niche with themed weekends. There are weekends for line dancers, Goths, Scaletrix enthusiasts, you name it, they've got it. Two weeks ago, you'd have Butlin's filled with happy-clappy Christians enjoying a holiday with a "theological emphasis" promising "spiritual fulfilment". Yet, only a few days later, events took an unpleasant turn as Butlin's Minehead descended into an impromptu Murder Mystery weekend when a domestic incident ended gruesomely with murder charges.
This weekend though was a music festival, but thankfully there was no sign of the traditional Butlin's velvet suits playing cheesy covers on old Bontempi keyboards. The event is organised by All Tomorrows Parties, named after a Velvet Underground lyric. Unlike other festivals, this one sets itself apart from the competition by providing accommodation that won't blow away in the wind and bathroom facilities that don't contravene international biological weapons treaties. Oh, and every festival is curated by a different musician, giving each event a unique flavour.
"There are only three important elements in life – air, water and the dirty three!" announced one inebriated festival goer, baffling passers-by. He wasn't commenting on his personal hygiene habits (although he might as well have been) but rather Dirty Three are the name of the band responsible for the weekend's line up. Heading up the bill was no less a figure than Nick Cave, whose gruff heart wrenching songs make Leonard Cohen sound like Cliff Richard on happy pills. Clad only in black and sporting an impressive drooping moustache, Nick Cave looked more like a henchmen from a spaghetti western than a Butlin's regular. Sitting out on the veranda of his log cabin near the plastic water slides and astro-turf adventure golf course, he looked like he should have been overlooking the plains of the western frontier, surveying the wild buffalo. Instead he found himself surrounded by screaming seagulls and no fewer than six enthusiastically quacking ducks - surely some sign of his celebrity status since we had only two!
I'd like to tell you how good he was, but alas I missed both of his sets. But other musical highlights were Bill Callaghan's contemporary take on the traditional American country music, his timeless songs eerily reminiscent of a young Johnny Cash from Walk the Line.
But the longest queues that weekend were for Joanna Newsom. If you're not familiar with her music, it's almost impossible to find any review that doesn't compare her to some ethereal pixie with a Bjork obsession. A classically trained harpist with a high-pitched vocal range, her lyrics range from spelunking monkeys to astrophysics. Like Marmite, she is an acquired taste. You will either adore her for defying musical conventions and creating an otherworldly sound that remains both fragile and emotionally overwhelming. Or accuse her of screeching like a tortured cat. We overcame the queues by arriving two hours early, Amy having impressively smuggled a litre of vodka and tonic past security. The intimate set in the old ballroom upstairs was a joy and only slightly marred by the leaden bass thump of Nick Cave's Grinderman set below, as he threatened to erupt through the floorboards and overwhelm Joanna's fragile melodies.
Apart from the music, there are plenty of amusements to distract an idle weekender in search of entertainment. Flying kites on the beach, roller-coasters, death defying waterslides were all pretty good. Although it was a little disappointing to find the 'crazy' removed from the crazy golf course, and bumper cars renamed dodgems in an ill-fated attempt to stop us crashing into one another. Still, there was always the luggage trolley that handily converted into a late night taxi facility.
Yet, a weekend by the seaside wouldn't be complete without the amusement arcades. One virtual zombie we were shooting bore an uncanny resemblance to last year's festival headliner – that leathery and wrinkled supernatural entity, Iggy Pop, who despite being old enough for a bus pass, had enough apocalyptic energy to shame most teenagers.
Yet, despite the absurd volume of guitar feedback that can be found at an ATP festival, the most terrifying noise of the weekend was produced by us and a small box of high powered fireworks. Detonated at low altitude at midnight over Blue Anchor bay, colours exploded and showered across the water, accompanied a moment later by a deep bass boom that ricocheted across the harbour. The locals' window frames vibrated under the attack and even the seagulls were awoken into a state of squawking panic, as the sky filled with panicked feathers. Even with his new band, Nick Cave couldn't match us for sheer noise terror!
Blimey! Did you know Jon's New Zealand book Squashed Possums is out now - find out more
Blimey! Did you know Jon's New Zealand book Squashed Possums is out now - find out more
18/10/2007